Thanks to its expertise in ambient yoghurt processing, particle heating and a new Tetra Top system Tetra Pak announces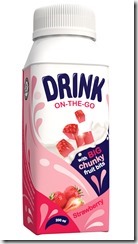 that it has helped Yili, a leading Chinese dairy manufacturer, to produce the world's first ambient drinking yoghurt with large fruit and cereal pieces. ​​
Yili launched the breakthrough product in Tetra Top® 200ml with large re-sealable screw caps. It gained immediate popularity, strengthening the leadership position of the company in the fast-growing ambient yoghurt category.
Including large fruit pieces within an ambient beverage product is a challenging process. The heating of the product must be done carefully to ensure that the fruit pieces are not damaged or broken-down during the process, and the filling and packaging need to ensure even distribution of the fruit particles, keeping the quality and integrity of the final product.