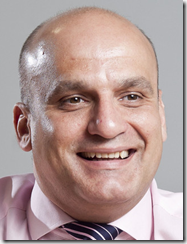 Arla Foods UK, has announced the departure of its Managing Director, Tomas Pietrangeli, who is leaving the company to become CEO of Danish retail group Dagrofa A/S. Pietrangeli will be replaced by Ash Amirahmadi, who is currently SVP – Sales for Arla Foods in the UK.
Amirahmadi joined Arla Foods in 2004 from Unilever and has held a number of leadership roles across the business. He was appointed SVP – Sales in 2016, responsible for the company's 120 strong Commercial Team, all UK customer relationships and global lead for Walmart and Tesco. During this time, Ash has overseen sales growth of circa £200 million and 9% growth in the company's branded portfolio.
Amirahmadi is a graduate of Nottingham University where he studied engineering. He is of British and Iranian descent, moving to the UK from Iran during his childhood. Married to Elizabeth they have two children. He will take-up his new role on 1 July 2018 when Pietrangeli leaves.