Rabobank Global Dairy Top-20: challenging conditions pave the way for acquisitions and tie-ups
The latest annual Rabobank survey of the world's largest dairy companies highlights the giants of one of the world's most valuable food sectors. The last 18 months have seen most of these players battle challenging conditions, with weak economies and supply constraints undermining sales growth in key markets. Against this backdrop, mergers and acquisitions have become an attractive route to growth and profitability. But with billion dollar deals increasingly hard to come by, dairy giants will need to acquire or tie up with more companies to sustain the same rates of growth in future. Those adept at acquiring and embracing new businesses will remain well positioned to survive and thrive.
"Once again, giants Nestlé, Danone and Lactalis top the list, showing that the world's largest dairy companies are reasonably entrenched," commented Rabobank analyst Tim Hunt. "We continue to see some companies outperform their peers in sheer growth terms. In particular, the Chinese giants Yili and Mengniu, which saw their sales expand by 14% and 20% respectively, with Yili entering the top 10 for the first time ever".
Saputo continued its march up the list to push to eighth place, in part due to several recent acquisitions. Meiji and Morinaga slipped down the list largely due to the sharp decline in the value of the Yen (in which most of their products are sold).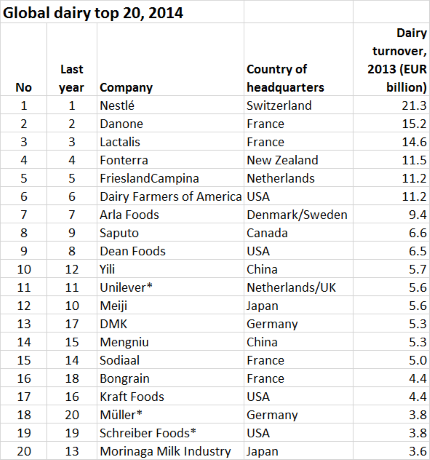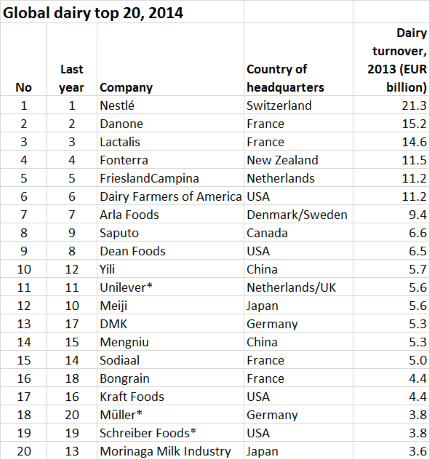 *Estimate
Source: Rabobank, 2014
2013 was a challenging year for most of the world's major dairy companies, with stagnant sales volumes in most OECD dairy markets. Acquisitions have become a more attractive route to grow sales and in 2013, there were 124 dairy transactions, up from 111 in 2012 and the highest since 2007.
Positioning for maximum effectiveness in the expanding Chinese market remains prominent. In 2013, joint ventures were announced between Mengniu and Whitewave and COFCO and Danone while Yili announced a partnership agreement with Dairy Farmers of America. Mengniu took a stake in China Modern Dairy to secure raw milk supply. A further joint venture is pending between FrieslandCampina and Huishan.
Despite the increase in transactions, the dairy sector saw no billion dollar deals in the 12 months to 30 June 2014.
While underlying growth will pick up in coming years, many markets will not return to the rapid growth rates seen before 2008. In this context, mergers, acquisitions and joint ventures will remain a key avenue to growth and profitability.
"The catch is that the number of attractive targets is shrinking and multiples have risen", explained Hunt. "With billion dollar value deals harder to come by, dairy giants will need to acquire or tie up with more companies than in the past to sustain the same rates of growth".
Arla går över till euro
Arlas interna räkenskaper ska hädanefter göras i euro, istället för danska kronor. Men på svenska ägares avräkning gäller svenska kronor som vanligt.
Arlas koncernekonomidirektör Fredrik Lotz förklarar att beslutet är ett naturligt steg för Arla:
– Beslutet speglar det företag som Arla har utvecklats till under de senaste åren, med Europa som bas och försäljning av mejeriprodukter över hela världen. Därför kommer vår interna rapportering hädanefter att göras i euro, säger han.
Kvibille ädel special inte tillräckligt speciell
Vad är det som är så speciellt med Kvibille ädel special? Det undrar Livsmedelsverket, som anser att kunderna kan vilseledas av uttrycket, skriver SvD.
Myndigheten har inte hittat någon förklaring till varför osten skulle vara speciell, och nu hotas mejeriet med böter på 50 000 kronor i månaden om ostnamnet inte ändras till nästa år, rapporterar P4 Halland.
Och när Kvibille mejeri tog fram osten för 15 år sedan var den faktiskt speciell – ingen annan hade tagit fram en ädelost med så hög fetthalt. Osten kommer att få ett nytt namn.
Free report: Healthy lifestyle drives yogurt trend
The Dutch company DSM has released a free report on the increasing yogurt consumption throughout the world.
Yogurt is fast becoming a healthy staple amongst consumers worldwide according to the latest survey by DSM. Download the results of DSM's first Global Insights paper on yogurt and find out what consumers are really looking for.
Based on a consumer perception survey undertaken in six diverse markets, this paper is the first of a set of global insight reports focusing on yogurt. It forms part the DSM Global Insight Series – an investigation into consumers' perceptions and attitudes around food, taste and behavior – that aims to help the food industry improve their processes and deliver healthy, tasty and attractive products to consumers.
Get it

here




More information about the company
Ny ostfestival 13-15 februari 2015 på Nordiska Museet
I år genomfördes Ostfestivalen – osten i våra hjärtan för första gången på Nordiska Museet i Stockholm. Syftet var att med fokus på den goda smaken lyfta kunskap och intresse för svensk ost.
Upplägget blir som förra året. Alla svenska ostproducenter erbjuds antingen kostnadsfri plats vid landskapsbord, där man delar bord med andra från samma landskap eller också betalar man för ett eget utställarbord till låg kostnad och får bordet själv. Alla bord ställs upp efter Sveriges karta.
Upplägget breddas genom inbjudning av råvaruproducenter, teknikföretag och ostlagrare. Det syftar till att göra ett deltagande mer intressant för ostproducenterna.
Fredagen vänder sig framför allt till bransch- och fackfolk och lördagen/söndagen är avsedd för den breda allmänheten. Detta kommer avspegla sig i teman på föreläsningar och provningar. Alla dagarna är formellt öppna för alla.
LRF är partner för festivalen och Mejeritekniskt forum sponsrar och de senare kommer även att förlägga sitt årsmöte till en av dagarna.
Grönt ljus för fusionen mellan Arla och Walhorn
Fusionen mellan Belgienbaserade EGM Walhorn och Arla Foods har godkänts av berörda konkurrensmyndigheter. Fusionen mellan de båda bondeägda mejerikooperativen planeras träda i kraft den 1 augusti.
Med godkännandet på plats förbereder sig Arla nu för att välkomna nya bönder från Belgien, Tyskland och Nederländerna som ägare. Det är där som EGM Walhorns nuvarande ägare finns.
Efter fusionen kommer Arla ha 13 500 mjölkbönder i sju Nordeuropeiska länder som ägare. Det är första gången Arla har ägare i Nederländerna.
Accelereret ostemodning
I samarbejde med Københavns Universitet vil Arla Foods i et nyt projekt undersøge mulighederne for at lave gode oste hurtigere og bedre, skriver Mælkeritidene. Ved hjælp af avancerede mikroskopimetoder vil parterne analysere, hvilke faktorer der begrænser smagsudviklingen i ost. Det gøres ved at skabe en visuel model, der kan være med til at afkode begrænsende faktorer i modningsprocessen. Den gode ostesmag bliver for en stor dels vedkommende skabt af mælkens naturligt forekommende mælkesyrebakterier samt ved hjælp af specifikke mælkesyrebakteriekulturer, der tilsættes mælken. Hvis man kan optimere samspillet mellem disse, er der potentiale for, at modningen sker hurtigere og mere kontrolleret.
Projektet er 3-årigt og har et samlet budget på 3,2 mio. kr., hvoraf InnovationsFonden investerer de 1,6 mio. kr. Projektet ledes af Rodrigo Bibiloni, Arla Foods og Thomas Bæk Pedersen, KU, Fødevarevidenskab.
Valio fined for unfair market competition
The dairy producing company Valio was on Thursday found culpable of practising unfair competition by the Market Court. The court imposed a 70 million euro penalty on Valio and ordered the company to compensate another dairy company, Arla Ingman about 100,000 euros in legal costs.
According to the court, Valio had an elaborate plan to displace Arla Ingman from the market by under-pricing milk


See more
Brasil Foods dairy division for sale
Grupo Lala, the largest dairy processor in Mexico, is in the running to take over the dairy division of Brasil Foods. Besides the Mexican company also global dairy giants Danone and Groupe Lactalis are potential acquisition candidates, reports Bloomberg.
In March, Brasil Foods announced to sell the dairy division, because the corporation wants more focus on the meat sector.
The dairy division makes up for 10 per cent of the turnover of the Brazilian nutrition giant, which is 15 percent of the Brazilian milk market.
The market value of the dairy division of Brasil Foods is estimated at 5.3 billion Brazilian reals, or about US$ 2.4 / € 1.75 billion. In 2013, the division had a turnover of 2.8 billion reals, (US$ 1.3 / € 0.9 billion). The Brazilian milk consumption is growing annually by about six percent.
Camel Milk For Sale on the Web
Camel milk has been used for centuries as a natural remedy in the Middle East, Asian and North African cultures. Nomads and Bedouins still rely on camel's milk nutritional and medicinal properties, while generations of tribes have lived on camel milk entirely with a few dates for months in the harsh desert climate. On the web Desert Farms sells camel milk in bottles to health-conscious consumers, children with autism & people with diabetes. Desert Farms' camels live in small family farms in the USA where the average herd is about 6 camels. All Desert Farms camels are pasture-raised and eat a complex diet of hay, grass and alfalfa pellets.