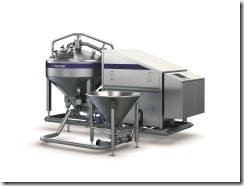 Featuring a radical new design that produces finer, more consistent and more stable emulsions, the new R370-1000D reduces the need for downstream homogenisation, delivers a better quality end product and cuts energy bills.
The new mixer can also handle ingredients with up to 65% dry matter, the highest concentration for infant formula production. This cuts down the need for evaporation, another expensive step in food processing, slashing costs by up to 90%.
The mixing machine produces at a capacity of up to 30,000 litres per hour and can be applied in the production of liquid dairy and beverages, ice cream and prepared food, as well as for most pre-mixing needs in food manufacturing.